Cartoons get straight to the heart of the matter.  We're all familiar with the cartoons found on the front page of newspapers.  A complex news story is neatly summarised into a clear, simple and memorable picture.  The key points are all there.  It's a striking and effective means of communication.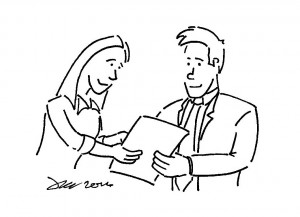 If your business or organisation needs to communicate ideas, news or information, a cartoon can help you deliver your message with maximum impact.  Cartoons draw attention – the human eye is drawn to the image over text.  Even in an online world crowded with images, a unique, bespoke, entertaining picture can make your message stand out from the crowd.
Cartoons allow for abstraction.  You can approach your audience from new angles, depict metaphors, create imaginary scenarios or play on words.  Your message can entertain as well as inform.  Humour is not a necessity, but even serious issues can be highlighted in a light-hearted way if you so wish.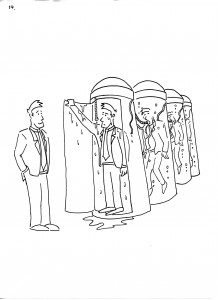 At JMC I provide individually tailored cartoons for business communication.  You can take a look at the gallery to see some examples of past work, but your images will be drawn specifically for your organisation and crafted to ensure they support the message that you want to send.
Whether you require cartoons for use in traditional media such as books, posters and newsletters or as eye-catching support for your blogs, tweets, articles and emails, contact JMC to discuss how your message can be displayed in a clear, accessible, interesting new way.