I am delighted to announce that Drawn From 2017: The year in cartoons will be published on November the 15th by Filament Publishing.
Drawn From 2017 is a collection of my work from what has been an eventful year. Featuring commissions, submissions to publications and previously unpublished cartoons, the book views the topical stories of the year through a gently mocking lens.
Source material has been plentiful. Brexit negotiations began between those who don't know what Brexit they want and those who don't understand how negotiations work. An unsustainable government vied with an unelectable opposition in a snap general election. Strange, bloated men with unusual hairpieces baited each other with nuclear weapons. It has been a very busy year.
"Elegantly excoriating the pretensions of politics, the foibles of fashion and the excessive eccentricities of celebrities and the news. Mild mockery, decisive draughtsmanship and creative content characterise Mellor's Pages"

– Raymond Keene O.B.E. chess Grandmaster and correspondent for The Times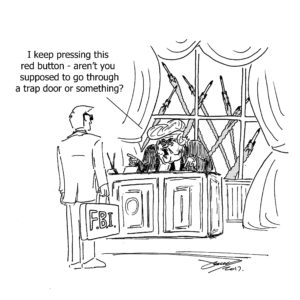 With cartoon takes on politics, business, film, TV and online culture, Drawn From 2017 aims to provide a humorous, sideways glance at some familiar stories. I realise that my second book has moved away from the past and into the modern era but, for those who enjoyed Drawn From History, there is also a chapter dedicated to historic events which were being celebrated or commemorated this year or which found 'interesting' new parallels in today's world.
Those with a taste for the surreal will also find a chapter of a more random nature. Though not tied to the above categories, these cartoons of anthropomorphic animals, skewed nursery rhymes and homages to the internet's frequent #NationalDayOfWhatevers were nonetheless created during 2017, happen to be favourites of mine and deserve a place to call home.
If you would like to order a copy for yourself or to fill the stocking of a loved one who would appreciate some topical humour, you can preorder the book here. If you are interested in placing a larger order to use as corporate or festive gifts then please feel free to contact me directly.
Best wishes,
James.