At JMC I illustrate books, posters, and letters and provide supporting cartoons for organisations to use in social media.  However, it is always a pleasure to draw personalised pictures for individuals looking to deliver something unique to friends and family.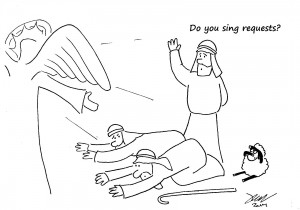 There is a vast array of greetings cards available on the high street, but by contacting JMC you can request a bespoke cartoon depicting the exact scenario and wording of your choice.  Though I draw cartoons sent as cards for Christmas, birthdays and other recognised holidays and occasions, by working entirely from your brief I also produce illustrations for unique personal instances.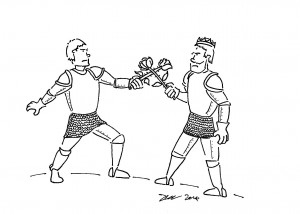 If you require illustrations for a production's posters or programmes, invites for an event, a framed picture as a gift or any other occasion, then do not hesitate to get in touch to discuss your needs.  I provide both light hearted cartoons and stylish line drawings either from imagination or from a scene you would like to see depicted.
Cartoon or artwork, silly or serious, if you've an idea for a picture you would like to see realised then contact JMC with your request.